It's been a wonderful year at BTG Labs and we'd like to take a moment to reflect on some of the things we're most proud of and grateful for. We've helped a lot of companies overcome what seemed to be insurmountable adhesion issues and discover new ways of thinking about both cleanliness and process control. It's so exciting being able to solve problems from the root cause and to make manufacturing more reliable and predictable than ever before.
Thank you for reading our blog this year and for allowing us to come along side you to make your adhesion processes the best they can be.
Surface Science Experts
At the heart of BTG Labs is the science that under-girds everything we do. Proven scientific methodology and a deep understanding of and appreciation for the chemistry of cleanliness is the frame of the vehicle we're riding, as well as the fuel in the tank, engine under the hood, the beautiful paint color and even the comfy seats in which we're sitting. This expertise is what makes BTG Labs standout in a crowd.
We added to our Surface Science Lab this year, welcoming Rose Roberts, Ph.D., and Ian Smith, Ph.D. They have come along side Dr. Giles Dillingham, Brooke Campbell, Bill Buschle, Ph.D. and Elizabeth Kidd. Elizabeth endeavored to move out to San Jose, California and open our first West Coast Surface Science Lab. As we grow and find news ways to improve adhesion processes, the laboratory will always be the center of everything at BTG Labs.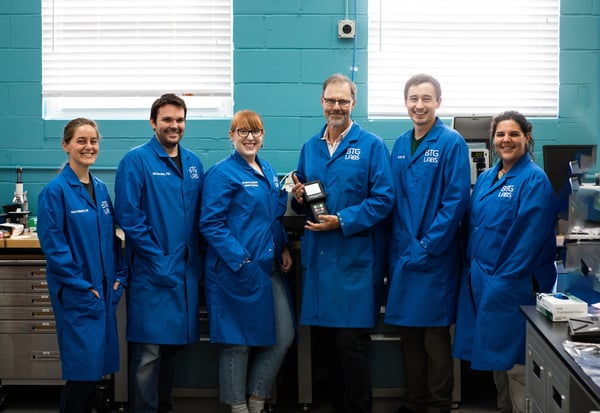 Continuing Science Lecture Series
At BTG Labs we have an ongoing science based lecture series, with our most recent presentation by Mike Savina, Ph.D. from the Lawrence Livermore National Laboratory on stardust and the biological and chemical information that it can share with us after travelling to earth from light years away. We're excited to continue this series and keep inviting experts from the greater scientific community to share their knowledge.
New Products
Surface Analyst XA
In 2018 we launched the automated version of our Surface Analyst technology in the form of the Surface Analyst XA. But this year, to better demonstrate the capabilities of this system, we created a couple videos that show the XA in action. The first video gives an overview of the many applications where an automated surface inspection system is the only solution to control surface quality. The second video shows our successful partnership with PVA to use the Surface Analyst XA to verify plasma treatment before conformal coating of a pcb board.
Surface Analyst 2001
This year we launched the Surface Analyst 2001, offering a more streamlined instrument for manufacturers who need a field inspection tool or primarily measure flat sheets of material. This device has all the power to control surface quality that the flagship Surface Analyst 3001 does, it's just a simplified version to help companies better manage their adhesion process with objectivity and reliability.
Trade Shows
IPC APEX
It was a pleasure to exhibit at one of the biggest Electronics industry trade shows again. This was one of our most successful events of the year and we were able to connect with so many of you for the first time here. We will be attending next February as well and one of our expert scientists will be presenting a course, titled Process Control for PCB Surface Reliability: Introduction for a Novel Test Method, about our innovative way of looking at and controlling quality. Hope to see you there.
MD&M West/EAST/Minnesota
Moving further into the Medical Device manufacturing industry we had a strong presence at all three Medical Design & Manufacturing conferences in California, New York and Minnesota. We are continuing to expand our impact in this industry to help ensure cleanliness, successful assembly of prosthesis, reliable coating of implants and the many other ways we can partner with companies to create predictable adhesion processes.
SAMPE and CAMX
We continued to speak to the Aerospace and composites industries at two of the largest North American trade shows for companies in those sectors. We plan on continuing our partnership with these shows and their constituents in the coming years until every adhesion issue related to uncontrolled cleanliness of composites is solved.
K-Show and Parts2Clean
We expanded our reach considerably this year with the inclusion of Willi Ahnen and Agnes Kirchen as reps in the European markets. They are an exciting addition to our team and they were crucial to the success of our presence at Parts2Clean in Stuttgart, Germany.
We also were able to share a space with our partners at Plasmatreat at the K-Show in Dusseldorf, Germany. We're continuing our European presence in 2020 with JEC World in Paris.
Plasmatreat Bay Area and Detroit Tech Days
We also partnered with Plasmatreat to organize two Tech Days events for the West Coast and Detroit. Giles, our CEO and Chief Scientist, and Lucas, our Sales Manager, both spoke at the events about exciting advancements in the Electronics and Automotive industries.
Thank you again for an amazing year and keep reading this blog for more science and manufacturing information. Please share with your friends and colleagues anything you find interesting that you read on here. We really appreciate you taking the time to read this every week to grow your own understanding about surfaces, cleanliness and processes.
For more information about those subjects, download our eBook: The Manufacturer's Roadmap to Eliminating Adhesion Issues in Production